Today technology is on the boom. Everybody wants to know about it and want to connect with it. As you will know, our website is completely based on technology facts. That is why I have brought you the list of 101 Technology Facts. These lists can make you laugh and surprise you also.
You can read unlimited technology facts here- The Tech Facts
So let's begin Technology Facts…
101. Google was called BackRub
Page ranking is a very complex part. One of the works of all these complimented works is that it also works by getting websites to rank pages based on valid backlinks. This is the reason why it was initially named Backrub by those who created google.
100. The first remote control called "Lazy Bones"
The first remote to control a television was developed in 1950. This remote was named "Lazy Bones" and it was developed by Zenith Radio Corporation. It was also the first commercially successful TV remote control. "Lazy Bones" what a name!
99. The CEOs of Microsoft, Adobe and MasterCard all went to the same school in India
The CEOs of Microsoft, Adobe and Mastercard are from the same school. The name of the school is Hyderabad Public School. It's a private school in southern India. Satya Nadella(CEO of Microsoft), Shantanu Narayen(CEO of Adobe) and Ajaypal Singh Banga(CEO of Mastercard) went to the same school in India.
98. HTC's EVO 3D is the first dual-camera phone
The HTC EVO 3D was a 3D-enabled Android smartphone developed by HTC, released exclusively in the United States. In May 2012, the Virgin Evo V4 was re-released by Virgin Mobile as a pre-paid smartphone. It had a 5 MP rear camera.
97. An iPhone is made up of about 75 elements
These elements are approximately two-thirds of the periodic table. This is because our phone has many parts. And different elements are required to make each part. Like lithium is used to make batteries. Gold, silicon, tin, etc. are also used in phones on motherboards.
96. Mobile phone throwing is an official sport in Finland
Mobile phone throwing is an international game that began in 2000 in Finland. The world record holder is Germany's Tom Philippe Reinhardt. You will not believe, he threw a phone at 136.75 meters.
95. The "Fi" in "Wifi" doesn't mean anything
The creature is just called it that because it rhymes with "Hifi". Many people think that the full form of wifi is Wireless Fidelity. Well, this is considered its full form. But you should know that the term Wireless Fidelity is derived from WiFi.
94. The average person unlocks their smartphone at least 110 times a day
According to a study released by app maker Lockett, the average person unlocks their phone 110 times every day. Lockett users are most active between 5 and 8 am.
93. The first GPS mobile phone was released in 1999
The first GPS mobile phone was launched in 1999 and was called "Benefon Esc". This phone was the first commercially available GPS phone. Its manufacturer's name was Benefon.
92. One in three kids uses a mobile phone or tablet before they can speak
According to a report, 1 in 3 kids uses a mobile phone or tablet before they can speak. Although this is not a bad thing, it can also mean that the technology era has started. In one study, it was reported that by the age of 8, 72% of children have used the phone.
91. In 1983, the first mobile phones went on sale in the U.S
Nowadays, every week there is a sale of some mobile phones. But do you know when the first cell was put on a mobile phone? In 1983, the first mobile phone sold for about $ 4,000 in the U.S. Went for sale. On March 13, 1984, Motorola dropped $ 3,995 to purchase the first handheld cellphone DynaTAC 8000X.
90. Pac-Man, the highest possible score is 3,333,360 points
The credit for achieving this score (3,333,360 points) was first attributed to esports player Billy Mitchell. He claimed to have done this feat in about six hours in 1999. As of 2019, 7 other players have scored the maximum score on this game.
89. The oldest .com domain on the internet is symbolics.com
The first domain on the Internet is symbolics.com which was still running. The address was registered in March 1985 by computer manufacturer Symbolics. It is now in the form of a historical museum. Where you see its collection.
88. Sony used to sell a walkman in a water bottle
Sony sold the walkman in a bottle of water to prove it was really waterproof. Sony's NWZ-W270 MP3 Player was launched in 2013. Sony used to sell it by placing it in a vending machine, just like a bottle of cold drink.
87. The first Google computer storage was built with legos
Lego is a type of toy. Vehicles, buildings, and working robots can be made by assembling their bricks. Anybody can make anything with it. In 1996, the two founders (Larry Page and Sergey Brin) built a Lego brick disk box for their storage server for Google's "digital library". The first Google server was made of Lego bricks and had 10x 4GB disks.
86. National emoji of Finland
The national emoji of Finland is Nokia 3310. It is kind of a symbol of strength.
85. The world's most powerful supercomputer is in America
For this, 5,600 square feet of floor space is required. It weighs more than 340 tons. The system is connected to 185 miles of fiber-optic cable and can store 250 petabytes of data. Previously China had the most powerful supercomputer but now America has the most powerful supercomputer.
84. The word "Selfie" was voted as "Word of the year" in 2013
The word "Selfie" was officially added to the Oxford English Dictionary & was voted the "Word of the year." Social media sites have helped popularize the term selfie.
83. A man creates a Ghost Hunting device to talk to his daughter
Mr. Galka has created a ghost hunting device to communicate with his dead daughter. He lost his daughter Melissa in a car accident. Mr. Galka featured one of her devices on the show as a recorded voice, stating that she was calling a soul: "Hi Daddy, I love you."
82. There is a 13,000-square-mile area where phones and Wi-fi are banned
This is not a place where the internet has been removed to keep the peace. This is an experiment area, from where waves are sent into space. The world's largest radio telescope is here with a 100-meter diameter. Therefore, within 10 miles of the observatory, Wi-Fi, cell phones, and radios are flat-out. Only four hours west of Washington, DC, is a city where cell phones and wireless internet have been outlawed. The area is spread over an area of 13,000 square miles in West Virginia, Pennsylvania, and Virginia, where airwave use is heavily restricted.
81. The first iPhone did not have an App Store
The first iPhone launched on 29 June 2007 and Apple introduced the App store on 10 July 2008. Obviously, the first iPhone will not have an app store. The App Store was not released until 1 year after the iPhone. It was launched with an initial 500 applications available.
Read also: 21 Facts on Technology.
80. The power button symbol is based on binary
The power button symbol is based on binary's off(0) and on (1). The line in this symbol indicates that the power is on, that is, the power is going into the device. And the circle which is formed in the symbol shows that the power is off, that is, power is not going into the device. If you know the binary number then you must have understood.
79. MyDoom – the most devastating computer virus
It is the most destructive computer virus ever. The virus caused a worldwide loss of $ 38 billion. SoBig is the second-largest destructive virus and ILoveYou is the third-largest destructive virus.
78. The very first mobile phone call is done by Martin Cooper
On April 3, 1973, the first cell phone call was made by Martin Cooper. It is amazing that even the first call was made to Bell Labs who were working on the same project. Simply, he was Martin Cooper's competitor.
77. Apple's app store once had an app called I Am Rich
People needed to give $ 999.99 to buy this app, it was fun that this app did absolutely nothing and not only that 8 people had bought it.
76. Steve Jobs dropped the first iPod in water to show that it was too big
When the first prototype of the iPod was shown to Steve Jobs, he dropped it in an aquarium to prove that has empty space in that prototype so it could become smaller.
75. Once PayPal accidentally credited a man USD 92 quadrillion
Paypal, an online money transfer company, mistakenly credited a man with $ 92,233,720,368,547,800. This mistake made him the richest man in the world.
74. IBM sold smartphones with a touch screen display in 1994
IBM sold smartphones with a touch screen display input that could send emails and run 3rd party apps in 1994. Its name was IBM Simon Personal Communicator, also known as IBM Simon. It was also able to send and receive fax, e-mail and cellular pages. It had features such as an address book, calendar, appointment scheduler, calculator, world time clock, electronic notepad, handwritten annotations, and stylus input screen keyboard.
73. Scientists have used 'artificial nerves' to allow the prosthetic hand to feel the touch
Scientists have used artificial nerves' in prosthetic hands. So that things can also feel when touched. With a motorized prosthetic arm, you can move forward with your thoughts.
72. Scientists have created a battery that can charge itself while in the pocket
Scientists at MIT have created a battery that harvests energy from body heat. They say it could lead to mobile phones that will charge themselves while in your pocket.
71. Sony made a cassette tape that can store 185 TB of data in 2014
These cassette tapes were developed with the help of IBM. When this cassette tape was launched, it broke all previous data storage records. Do You Know that you can store about 15 hours of 4K Ultra HD video in 1TB of storage?
70. Google provides the Suicide Helpline number
If you search on Google 'I want to commit suicide', then Google will provide you the Suicide Helpline number of your country above all the search results.
69. The SIM card in your cell phone is basically like a tiny computer
Yes, it can be called a tiny computer because it has a built-in CPU, ROM, and RAM. You can also call it a chip because it stores your contacts and messages.
68. Musical Road in Japan
Japan has a music listening street. If you drive your vehicle at the right speed, you will hear music. Japan is not the first country to feature melody roads. The song Streets was first constructed in Denmark in October 1995 by two Danish artists.
67. Color-changing tattoo inks that can track your blood sugar levels
Researchers in Germany have developed color-changing tattoos. It changes color according to pH, glucose and albumin level to monitor health. These tattoos change color as needed to monitor health without constantly taking blood samples.
66. Alexander Graham Bell suggested the word "Ahoy" instead of "Hello"
Alexander Graham Bell wanted the word 'Ahoy' to be used instead of 'Hello' for telephone greetings. But "Hello" became quite popular. The word Hello was suggested by Thomas Edison.
65. Android logo inspired by the logos on bathrooms
Irina Blok was a designer at Google who created the Android logo. Google asked Blok to create a logo for Android that should have a robot. Block studied many sci-fi toys and space-related movies to design Android's logo. But she did not get the idea from any of these things. Her inspiration came from bathroom doors. The design of the men and women on the toilet door is designed in the same way for the logo of Android.
64. iTunes users have agreed not to create Nuclear
If you want to use iTunes. So you have to agree that you will not use Apple products to form nuclear weapons. You can read it in the section under Apple's license agreement.
63. Only 8% of the world's currency is physical money
Only 8% of the world's currency is physical money. 92% of the currency is digital. This means that most of the money you make is used for transactions, buying goods and services, and so on only on computers and hard drives. Banks also store electronically and 92% include all types of transactions carried out using credit debit cards and wire transfers.
62. Facebook's 'Like' button used to be the 'Awesome' button
Facebook's 'Like' button used to be the 'Awesome' button. It was supposed to be a star or plus sign, and during development, the feature was named "Awesome". Facebook's 'Like' button was introduced on 9 February 2009.
61. 93% of the people who type "LOL" type it without even smiling a little
Another Technology Facts related to LOL is that "LOL" used to mean "lots of love" before the Internet. Now "LOL" is a short form of "laugh(ing) out loud".
Read also: The First Things in Tech.
60. About 6 million people around the world hit the Spacebar at the same time every second
There are 7.7 billion people in this world now. Many of them typing on computers or send text messages around the world. You know that the spacebar has to be clicked after every word. There is a channel on YouTube named "Vsauce". A video of which, "You Don't Type Alone", describes how 6 million people click the spacebar simultaneously.
59. Through the "LiFi" technology you can connect the internet LED lights
"LiFi" is a technology system that allows you to connect the internet through LED lights. Li-Fi Technology is a technology that is 100 times faster than the average speed of Wifi. LED-based Li-Fi can reach data rates of 10 Gb / s. Wi-Fi has a maximum data rate of 7 GB / s.
58. China has special sidewalk paths for mobile/cell phone users
In 2014, a road in the Chinese city of Chongqing was divided into two sections. On one side of the road, phone use was prohibited, and on the other, walkers were allowed to use their phones "at their own risk".
57. The Amazon Prime Video service was first called Amazon Unbox
Prime Video launched as Amazon Unbox on September 7, 2006, in the United States. It was a subscription service. In which you could download the video.
56. The Android OS was designed for digital cameras
The Android operating system was not built for smartphones. Android co-founder Andy Rubin said that the operating system was actually designed for digital cameras. When smartphones started becoming popular, Android was designed for mobile phones.
55. The first search engine was Archie, created in 1990
In 1990, the first search engine Archie was created by Alan Emtage. Archie used to crawl web pages, collect data and then matching it with the search query and then returning the results from the database.
54. Google, YouTube, Facebook, WhatsApp, Twitter, Instagram are banned in China
China does not want to bring its political matters to the world. That is why he uses his own social media and search engines. People of China have created their own social media. They use their own search engine. Tiktok is one of China's social media.
53. Initially, youtube was a video-dating site
It is the world's second large search engine. But initially, it was a video dating site. There are many technology facts in which tech startups are strange in the beginning and later became very successful.
52. Googling your own name is called "Egosurfing"
Searching your name anywhere on the Internet, not just on Google, is called egosurfing. You must also have typed your name once at search engines. This is a bit interesting. So all are exits to do so. I thought it should be on the list of technology facts.
51. The world's first commercially successful laptop is Osborne 1
The world's first commercially successful laptop was the 'Osborne 1'. The credit goes to Osborne. It was launched in 1981 and had only 64Kb of RAM.
50. Printer's Ink is more expensive than human blood
A lot of time is required to develop ink technology. The cost of R&D is also added to the consumer for payment.
49. The QWERTY layout was designed to slow your typing speed
The QWERTY layout was designed for older mechanical typewriters. So it was designed so that the old typewriter does not get stuck and it works properly.
48. There are more than 900 million iPhones across the globe
Apple Inc itself released in 2019 that there are more than 900 million iPhones in the world. It may also mean that more than 900 million iPhones have been purchased so far.
47. Email existed before the world wide web
It may sound a bit strange to hear, but email really existed before the Internet. But it was not for the common people like me and you. The email was only for internally connected computers. It had no fixed homepage and was very complex.
46. Your smartphone is more powerful than the computer used by NASA during the Apollo mission
The latest phones usually have 4GB of RAM. It is 34,359,738,368 bits. Such RAM is a million times more than Apollo computer RAM. How do you feel when you realize that the phone in your pocket is more powerful than the phone used in Apollo 11.
45. There is a refrigerator that opens when you give a smile
This refrigerator is developed by Sony. The system, called "The Happiness Counter", naturally aims to encourage smiling in our everyday lives. It is equipped with a built-in Sony CyberShot digital camera with smile-recognition technology.
44. Bill Gates' house was designed using a Macintosh computer
This is strange because Bill Gates himself created the Windows operating system. But when his house was designed, the Windows computer was designed by Macintosh Computer instead of being used.
43. The first email was sent in 1971 by Ray Tomlinson to himself
This email was sent for testing purposes. He did not remember the email he sent. There was an email like QWERTYUIOP or something else.
42. Sony's first product was an electric rice cooker
Sony's first product was an electric rice cooker. This Sony product failed because the rice cooked in it was mostly undercooked. Sony's name at that time was the Tokyo Telecommunications Research Institute. Which later changed to Sony.
41. In 1956, 5 megabytes of data weighed one ton
In 1956 IBM launched the first computer RAMAC which had something like a hard drive. RAMAC itself stood for the Random Access Method of Accounting and Control. The entire cabinet weighed over 1000 kg and the 5MP data was spread over 50 massive aluminum disks.
Read also: 10 Tech Facts that will blow your mind.
40. In 2012, Apple sold 340,000 iPhones every day
It's mean 236 every minute, and 124 million throughout the entire year.
39. The first alarm clock could only ring at 4 AM
The first American alarm clock was made in 1787 by Levi Hutchins of New Hampshire. He had made this device only for himself, and it started at 4 am only to wake him up to his job. The French inventor Antoine Radier first patented an adjustable mechanical alarm clock in 1847.
38. Over 2 Billion active users visit YouTube each month and every day
Youtube achieved a new milestone – Over 2 Billion logged-in users visit YouTube each month and every day. It is more than a quarter of the world's population.
37. On average, technology users carry 2.9 devices on them at all times
Mobile phones are the most favorite gadget of technology users. About 85% of people carry smartphones with them. E-readers carry the least number of people. 29% of technology users prefer to carry e-readers with them.
36. There is high-speed Internet on the moon: 19.44 Mbps
If you are not happy with your internet speed then there is a simple solution, go to the moon. By the way, this internet speed of 19.44 Mbps is enough for any common user. You can do many things at half its internet speed.
35. Early in 1999, Brin and Page decided to sell Google to Excite
Early in 1999, Larry Page and Sergey brin decided to sell Google to Excite. With this intention, he went to Excite CEO George Bell and offered to sell it for $ 1 million. But George Bell rejected that offer.
34. Amazon.com was Previously known as Cadabra.com
When Jeff Bezos started working on Amazon, he named it Cadabra. He named it on the magical words, Abracadabra. When he told his name to his lawyer, he made a mistake in listening. The lawyer heard "cadaver" in place of "Cadabra". Then Jeff Bezos decided that he would change his company name.
33. There may be 18 times more bacteria on your phone
According to research conducted by Sacramento Bee, iPhones, iPads, Android phones, anything with a touch screen, are likely to be involved in germs and viruses. According to Sacramento writers, Your mobile phone might have 18 times more bacteria than toilet handles.
32. Google hired a camel to create a street view in a desert
In 2014, Google hired a camel named 'Rafia' to create a street view of the Liva Desert in Abu Dhabi. Its name was "Rafia". This camel became the first animal to carry Google's tracker camera. It captured 360-degree images of the desert.
31. The first computer mouse was made of wood
This mouse was invented by Doug Engelbart. It consisted of a wooden shell, a circuit board, and two metal wheels. This was the first mouse that could fit in a user's hand.
30. The average Computer User blinks 7 times in a minute
The average Computer User blinks 7 times a minute, which is less than half the normal rate of blinks 20.
29. Spam creates so much energy
Spam creates so much energy by producing 17 million tons of CO2 that 24 lakh houses have electricity for 1 year.
28. "Timofonica" was the first mobile phone virus
It was found in June 2000. It sent SMS messages to GSM-capable mobile phones that read (in Spanish) "Information for you: Telefónica is fooling you.". This virus did not harm mobile phones nor did it affect them.
27. The first-ever banner ad
The first-ever banner ad, which appeared in Wired magazine's website hotwired.com on October 27, 1994. This was written on that banner ad: Have you ever clicked your mouse right HERE?
26. 20% of all YouTube videos are related to music
This may be the reason that you have created a separate app for Music Lovers from YouTube. People love music even if it is in the form of video.
25. Nokia's primary business was manufacturing pulp and paper
When the Nokia Company started, it was not a very large mobile manufacturing company. In 1865, Nokia was founded and its business was paper manufacturing at that time. It used to produce using natural resources.
24. Mosaic was the first popular Web Browser
It was released in 1993. Mosaic was also the first "easy-to-use browser". It also had icons, bookmarks, and more attractive interface features. Soon after the mosaic was released, "over 5,000 copies were being downloaded each month.
23. Domain registration was free until 1995
Before 14 September 1959, domains did not have to be paid for registration. This payoff began when, in 1995, a company called Network Solutions began paying people a domain name fee. It was quite expensive: prices usually started at $ 100 in two years of registration.
22. The first-ever VCR
The first-ever VCR (videocassette recorder) was almost the size of a piano. It was created in 1956. Earlier VCRs were both inefficient and expensive also. In 1956 Ampex Corporation developed the first VCR:- VRX-1000.
21. Microsoft was originally called Micro-soft
Microsoft was originally called Micro-soft, in which they removed the hyphen in 1981.
Read also: Top 10 weird but true facts about the technology.
20. Google servers release almost 200 tons of CO2 per day
The number of searches done on Google in a day requires a lot of energy. Most of the energy sources that come from them emit carbon dioxide in the air because they burn fossil fuels.
19. On 1st April 2005, NASA pulled a prank
NASA made a prank from the world that they had found water on Mars. NASA did this prank on 1 April 2005. This shows that jokes can happen in every field, even if it is in the field of science.
18. Google founder had no knowledge of HTML
Google founder had no knowledge of HTML, which is why the Google Homepage is so simple.
17. In Japan, 90 to 95 percent of mobile phones are waterproof
In Japan, 90 to 95 percent of mobile phones are waterproof because many people use them in Shower.
16. The first floppy disk was 8-inch in size
The first floppy disk was 8 inches in size and had a storage capacity of about 80 kilobytes. Floppy disk drives (FDD) were invented at IBM in 1967 by Alan Shugart. It used to be a very flexible plastic.
15. The creators of the PNG file format wanted it to be pronounced as 'ping'
The makers of P.N.G wanted it to be called Ping instead of P.N.G. But the name "P.N.G." Became more popular.
14. The name of the first microprocessor was "4004"
This microprocessor was invented in 1971 by Intel engineers. It was the first commercially available microprocessor also. The Intel 4004 was a 4-bit central processing unit (CPU) released in 1971 by Intel Corporation.
13. Mother of the computer
Ada Lovelace is the mother of the computer. She was the first women computer programmer.
12. The first version of Microsoft Excel was not built for Microsoft
The first version of Microsoft Excel was created for the Apple Macintosh, not for Microsoft. Microsoft released the first version of Excel in 1985 for Apple's Macintosh computer.
11. WhatsApp and Facebook Messenger have 1.6 billion users
The latest messaging app usage statistics show that WhatsApp and Facebook Messenger have 1.6 billion users worldwide, and WeChat is just behind it. (Aug 2019)
10. HP, Google, Microsoft, Amazon, Dell, Disney, and Apple – They were all started in garages
If you look at history carefully, you will find that HP, Google, Microsoft, Amazon, Dell, Disney, and Apple have one thing in common that all these were started in the garage.
9. The word 'Android' means a human with a male robot appearance
The word Android is derived from the Greek language in which "andr" means man and "oid" mean "likeness". So it meant "A man-like robot" or something like that.
8. The first personal computer
The first personal computer was created by Berkeley Enterprises. The name of this computer was "Simon". It sold for a price of $300 in 1950.
7. Amazon originally was a printed bookseller company
Amazon originally was a printed bookseller company, now it sells more e-books than printed books.
6. Google handles an estimated 3.5 billion search queries each and every day
Google now answers to more than 40,000 search queries every second. You wouldn't believe that Google was answering 3.5 million search queries in September 1999, a year after its launch. Live stats
5. The old Nokia SMS ringtone represents the letters SMS in Morse code
The old Nokia SMS ringtone 'bip bip beep beep bip bip' represents the letters SMS in Morse code.
4. Tim Berners-Lee invented the WWW in 1989
Tim Berners-Lee also created the phrase "World Wide Web" in 1990. I think if www does not exist then our site that providing technology facts also not exist.
3. This was the first photo uploaded on the Internet.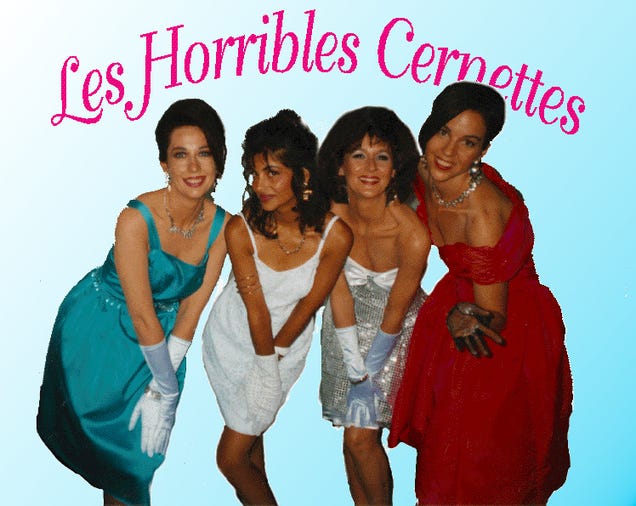 In this photo, the women were part of a musical group called Les Horezal Senates. This photo was photoshopped. It was saved as a -gif before it was uploaded by Tim Berners-Lee, one of the inventors of the Internet.
2. "The Dirty Dozen" is the name of the twelve engineers who built the IBM PC
The team was led by Don Estrigant of the IBM Entry Systems Division in Florida. What a dirty technology facts!
1. The world's first 1 GB disk was invented in 1980
It was weighed 550 pounds(about 250 kg) and had a price of $40,000.
---
I hope you like these technology facts. This website is full of technology facts, meaning there is a lot of fun, so go and read:- The Tech Facts